Bio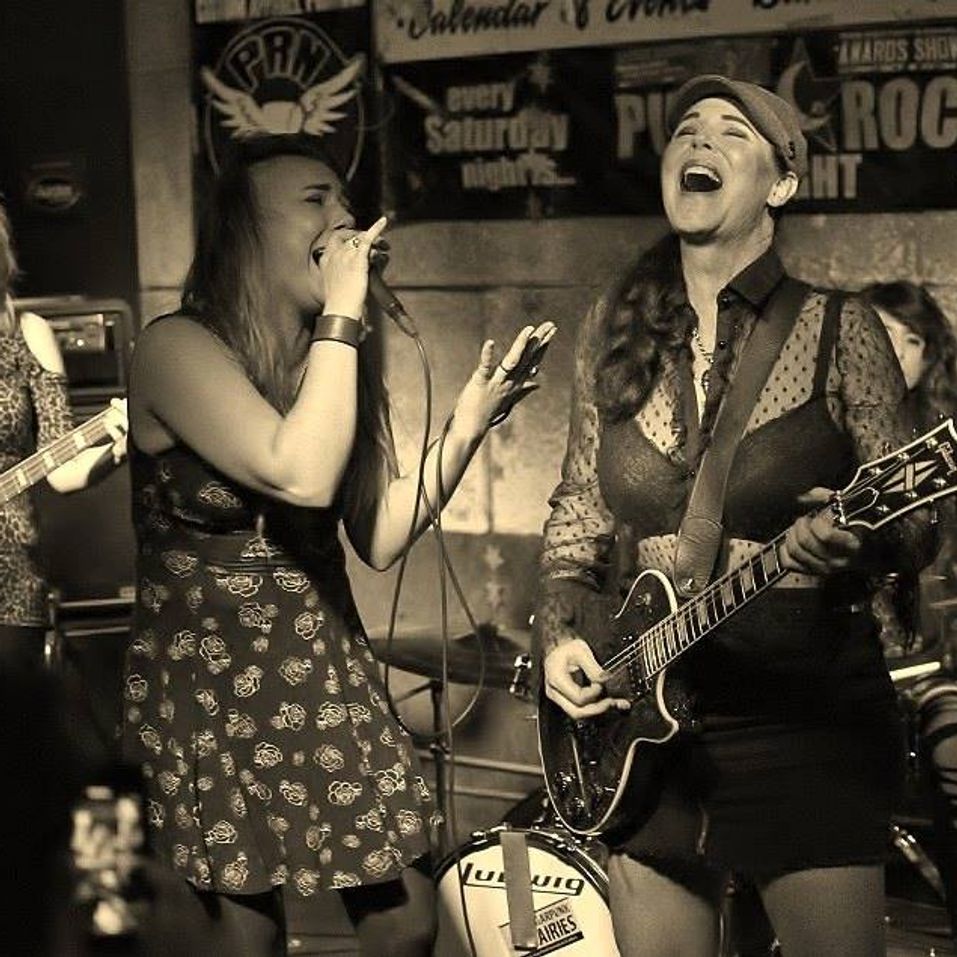 SPF? Who are they?!
We are a group of fair fairy friends who wear boots and exhibit eclectic taste. Catch us at a show sometime, but first, why not learn a bit more about each member?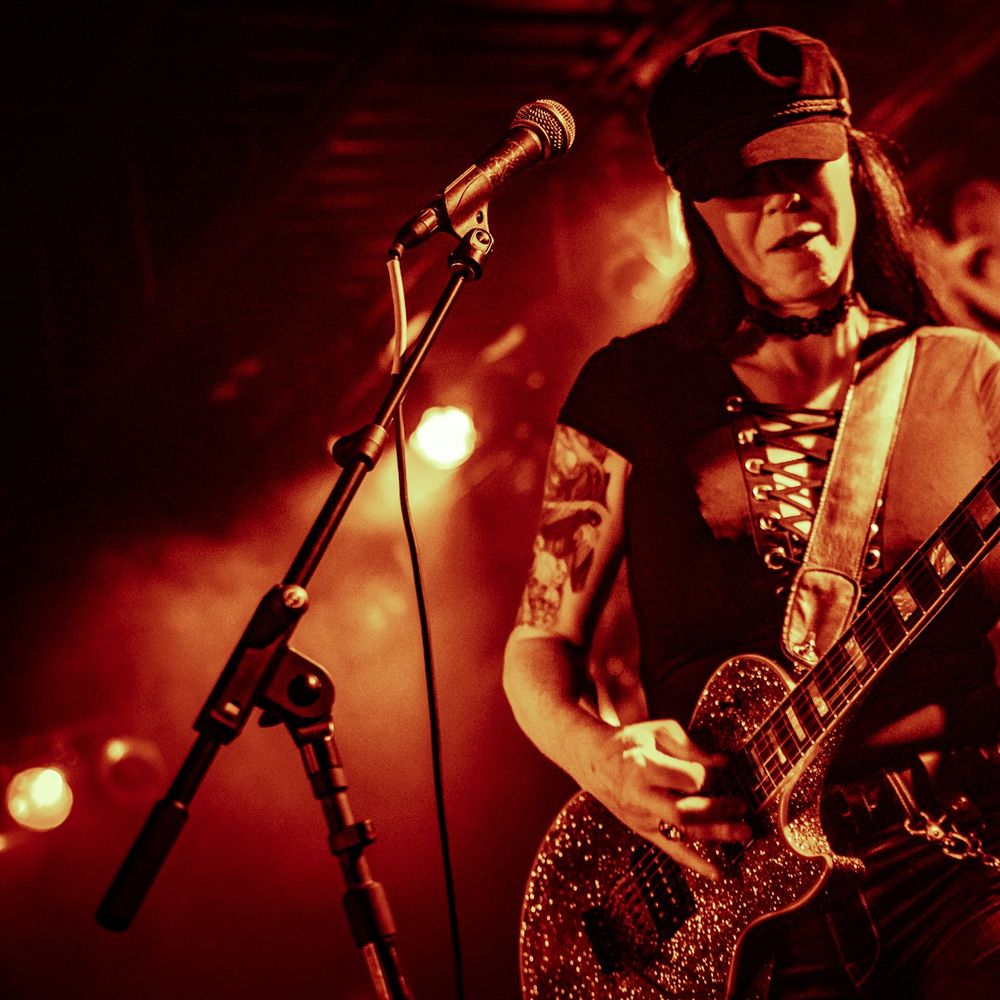 Meet Robin!
Robin is SPF's guitar player. She affectionately refers to herself as the "wall of noise to Emily's left (lol)". Like the rest of the band, Robin has been around the music scene for many years having been in several bands playing/writing originals and knocking out covers as well. She is a 2015 Detroit Music Award winner for her work on the guitar in an all-female tribute band. Robin has a love for Gibson Les Paul guitars and her Marshall JMP amplifiers. Several of her guitars feature custom sparkle finishes which are her favorites. When she came up with the music for the song "Dating Down" she says it came to her at 2am one night and she knew she had to get a quick recording of the main riff so it wouldn't be forgotten and lost. Three months later the band had recorded the song and released it as its first single. Robin has a great affinity for fans of the band and is always ready to talk music and equipment with people at shows. She is frequently asked about the settings on her amp and invites people to snap a picture of the controls if they want to try to dial it in for themselves. Like many professional players, Robin still takes lessons to improve her craft. She credits Sammy Boller of the band Citizen Zero for helping her the most. Of that working relationship Robin says this: "One of the best things Sammy taught me is a kind of 'architectural best practices' for what makes a solo guitar passage fun for the listener. In Dating Down I draw directly on what Sammy taught me. He's a great player and a great teacher and I owe him TONS!
Meet Stacy!
Stacy is the drummer of SPF! She has a multitude of influences ranging from intense drum corps to smooth jazz, and she comes from a formally trained background. Stacy has expressed passion for drums since a very early age, and over the years, she has developed a style best described as hard hitting with elements of dynamic finesse. Stacy has been part of a number of diverse musical projects, ranging from metal, to grunge, to industrial genres, and has stage experience ranging from concert bands to dance recitals to rock shows. In addition to her music experience, Stacy is a professional model, having participated in a number of runway and hair shows under big name clients, including L'Oreal and Wella. Also, she is a mechanical engineer, with an engineering degree and a Masters degree in business administration from Kettering University (a self-proclaimed geek). To generate a signature, powerful drum sound, she plays a simple 4-piece DW Design Series Acrylic kit with custom crafted Saluda cymbals.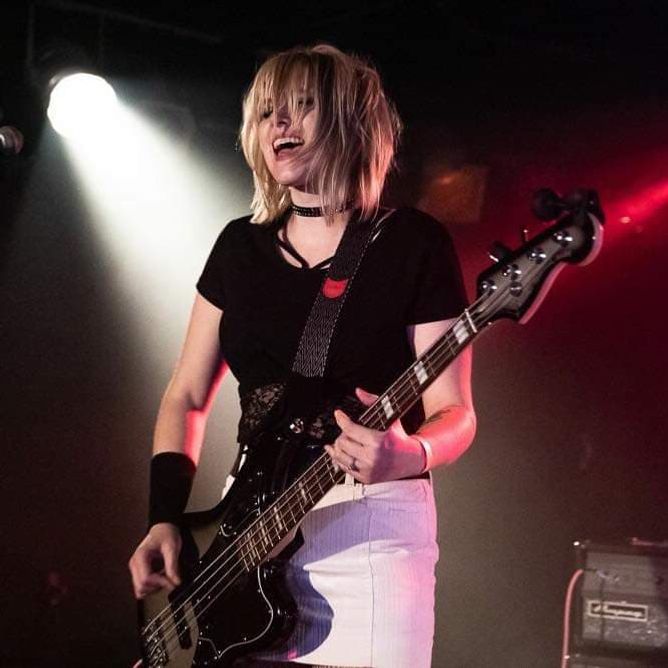 Meet Holly!
Holly started her music career at the age of 15 when she first sat behind her dad's Ludwig drum set in her parents' basement. Holly played drums for multiple bands in her teenage years, until a rare opportunity presented itself at the age of 20. Almost overnight, Holly would leave her family, friends, and career in Michigan to board a one-way flight to the city of sin itself, Las Vegas. Here Holly auditioned and was given the job as the new face of the rhythm section in the all-girl rock group, Jaggedy Ann. Her band headlined sold-out shows throughout Nevada and California and even shared the stage with multiple national performers. The turning point for the band was when they won the World Battle of the Bands in Las Angeles. This accomplishment led to a deal with Intergalactic Records, an award from Los Angeles Rock City News for Best All Girl Rock Band, as well as an award for Best Female Drummer. Holly's adventure took off when Jaggedy Ann started a several month world tour. The girls would become well known for their live shows in countries such as Singapore, China, Australia, Philippines, and New Zealand. Jaggedy Ann was performing headlining shows in front of 30,000 plus fans in a single night. It was during this time that the band caught the eye of the legendary rock drummer Phil Rudd of AC/DC. Plans were put in motion and before they knew it, they were recording their first album, Boiling Point, in Phil Rudd's New Zealand home studio. The band would go on to promote the album with a second world tour. Recently, the band was recognized for receiving 1 million requests for their hit single "Overdose" by Pirate Radio. Holly says "Life has a way of bringing things full circle" as she describes moving back to Michigan after enjoying 8 years in the Las Vegas sun. Upon her return, she has played drums in multiple Flint area bands. Holly's love for the "bottom line" of music lead her to pick up the bass guitar. Holly says her favorite part of playing bass guitar is the challenge that it brings her. Through networking with local area musicians, Holly found her perfect punk match in SPF. Holly says that like Jaggedy Ann, this band has been formed by four close sisters who all share a deep love for music. Holly is clearly a natural musician and entertainer who can now step out from behind the drum set and shine on stage!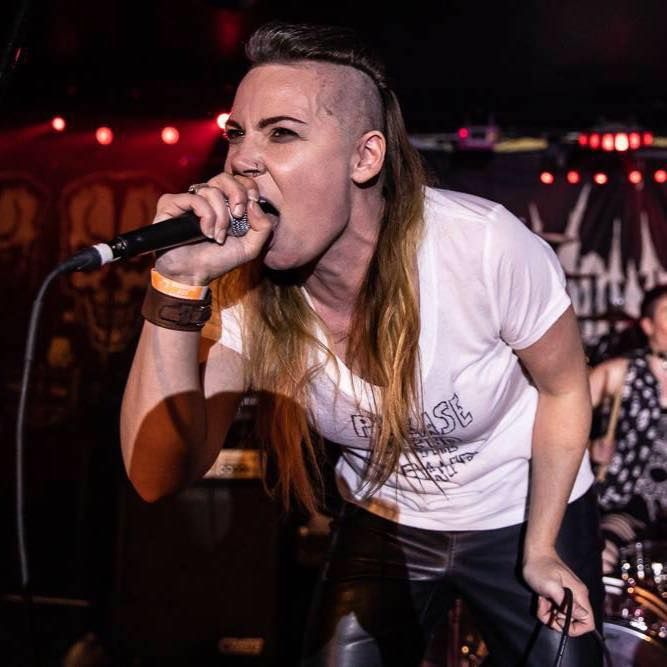 Meet Emily!
Emily Fox. Natural born killer vocalist and multi-instrumentalist. Paving her way with several bands on the local scene has found a rewarding and fitting home in this all-girl, punk rock outfit. Her raspy vocals are raw and powerful. Her confidence and genuine, down to earth power dominate local and national stages. Emily's high energy performances and undeniable force make SugarPunk Fairies an unforgettable act!